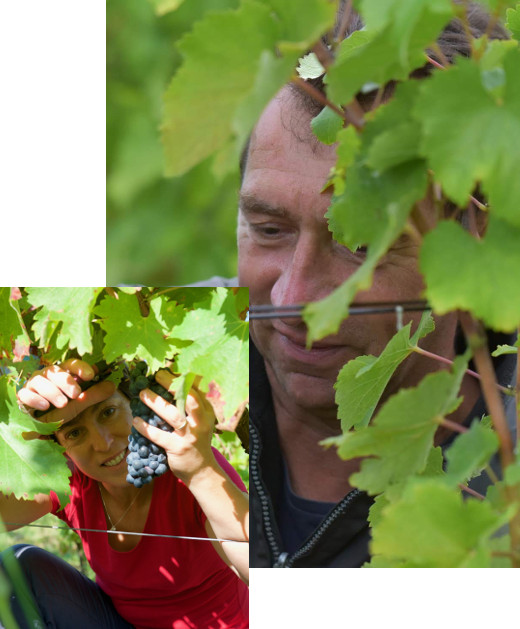 Domaine de la Tuffière
Welcome to
Domaine de la Tuffière, Lué en Baugeois!
Established since the 14th century thanks to the monks installed in the former priory of the Tuffière Brûlée, the Domaine de la Tuffière has preserved all its richness and authenticity. Today, the family farm is managed by Fabrice and Clarisse Benesteau, settled with her husband in 2002 following her parents. It is with pleasure and passion that they will make you taste their wines and visit their troglodyte cellars. A Tuffière was originally a tufa career. Since then, these veins dug in the rock offer a setting and a temperate atmosphere (12 ° C on average, 85% humidity) for the aging of our wines in barrels. Clarisse and Fabrice Benesteau
Famous Wine
Between Loir and Loire,
in the Baugeois, an exceptional vineyard
The wines of the Domain of Tuffière (freestone quarry) owe their quality and authentic character to 15th century origins, and to the monks who settled in the old priory of the « Tuffière Brûlée ».
The vineyard is exploited by Clarisse et Fabrice Benesteau since 2002, when they took over the vineyard of the Clarisse's parents.
The area planted with vines is spread over a total of 25 hectares. Most of the vineyard is situated on south facing chalky slopes, at an altitude of 80m. The soils are composed of chalk, mica, shelly sand and calcareous clay. We have 8 different grape varieties. The main vines are « cabernet franc » and « chenin ».
Convinced of the importance of sustainable wine-growing, together with the importance of protecting our soil, we use appropriate techniques to obtain healthy, ripe grapes.
In August 2019, we have the certification of « HVE » Hight Environmental Value.
Discover Wines